TOM STACHOWSKI, PE
Senior Mechanical Engineer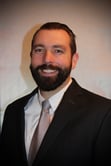 Tom is a highly experienced mechanical engineer focused on mechanical systems, controls, equipment, and machinery for mission critical facilities and data centers. He works closely with the CCA team and clients to support comprehensive service delivery for engineering, catastrophe response, troubled project turnaround, litigation support, forensics, and construction-related projects.
With over a decade of progressive experience in mechanical and electrical systems, and extensive knowledge of the construction industry, Tom brings proven expertise in design and analysis of control systems for data centers, new designs, retrofit applications, and conversions. His project work includes controls, electrical, and mechanical design for industrial cooling systems, chiller plants, test rigs, and hydroelectric dams. Prior to joining CCA, Tom served as a global engineering manager for data center solution at Schneider Electric, where his responsibilities included hardware engineering and sequencing of operations for a multi-national hyper-scale data center program.
He holds a Bachelor of Science degree in electromechanical engineering from Wentworth Institute of Technology in Boston. He is a licensed Professional Engineer and a member of the American Society of Heating, Refrigerating, and Air Conditioning Engineers (ASHRAE). Tom enjoys mentoring young professionals as they begin their journey into engineering. He is an avid gardener and has recently started bee keeping. In his free time, he enjoys spending time with his family, trips to the beach, skiing, walking his dogs, and working on his property.