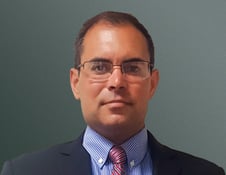 CCA is excited to introduce Dr. Michael Mellette, Senior Scientist Occupational and Environmental Health. Mike has 15-plus years of experience in occupational safety and environmental compliance, industrial hygiene, exposure, and risk assessment. As an experienced former U.S. Army helicopter pilot with extensive education and experience in environmental, chemical exposures, industrial safety, Michael is a perfect fit for CCA's disciplined, team-oriented approach. Michael will be responsible for leading cross-functional teams in investigations related to occupational and environmental health issues as well as safety investigations including accidents.
Michael's background includes:
EDUCATION
Bachelor of Science in Professional Aeronautics, Embry Riddle Aeronautical University
Master of Science in Industrial Technology Safety Management, Texas A&M University-Commerce
Master of Science in Public Health in Industrial Hygiene, Tulane School of Public Health and Tropical Medicine
Doctor of Science in Occupational Health and Environmental Hygiene, University of Massachusetts Lowell
AFFILIATIONS
American Industrial Hygiene Association (AIHA)
American Society of Safety Professionals
Indoor Air Quality Association
---
CCA works closely with clients to develop and maintain effective environmental health safety management programs that keep both employees safe, minimize the risk to employers, and minimize the danger that CCA's client's operations might pose to the general public and natural environment. CCA can conduct environmental studies as well as investigate building sicknesses. Our team of health, safety, and environmental experts have a broad range of experience in everything from liability, contamination causation, cost estimating, remediation, and expert testimony. Learn more about our environmental health and safety capabilities.