Download:

COVID-19 Facility & Operational Planning Checklist
Concerned about your workforce or constituent exposure to COVID-19? Download the checklist created by environmental and safety experts.
Keeping workers, consumers, and constituents safe—in manufacturing plants, grocery stores, commercial buildings, healthcare facilities, condo properties, and more—is top of mind for property and facilities managers right now.
There's a lot of pressure on you to create a safe place for your team. As management you need to understand how the virus is transmitted and how to effectively and efficiently mitigate risk of occupational exposure in your workplace.
Download CCA's comprehensive checklist today for specific guidance around cleaning and disinfection, COVID-19 investigations, employee training, and more to maintain a healthy and safe environment.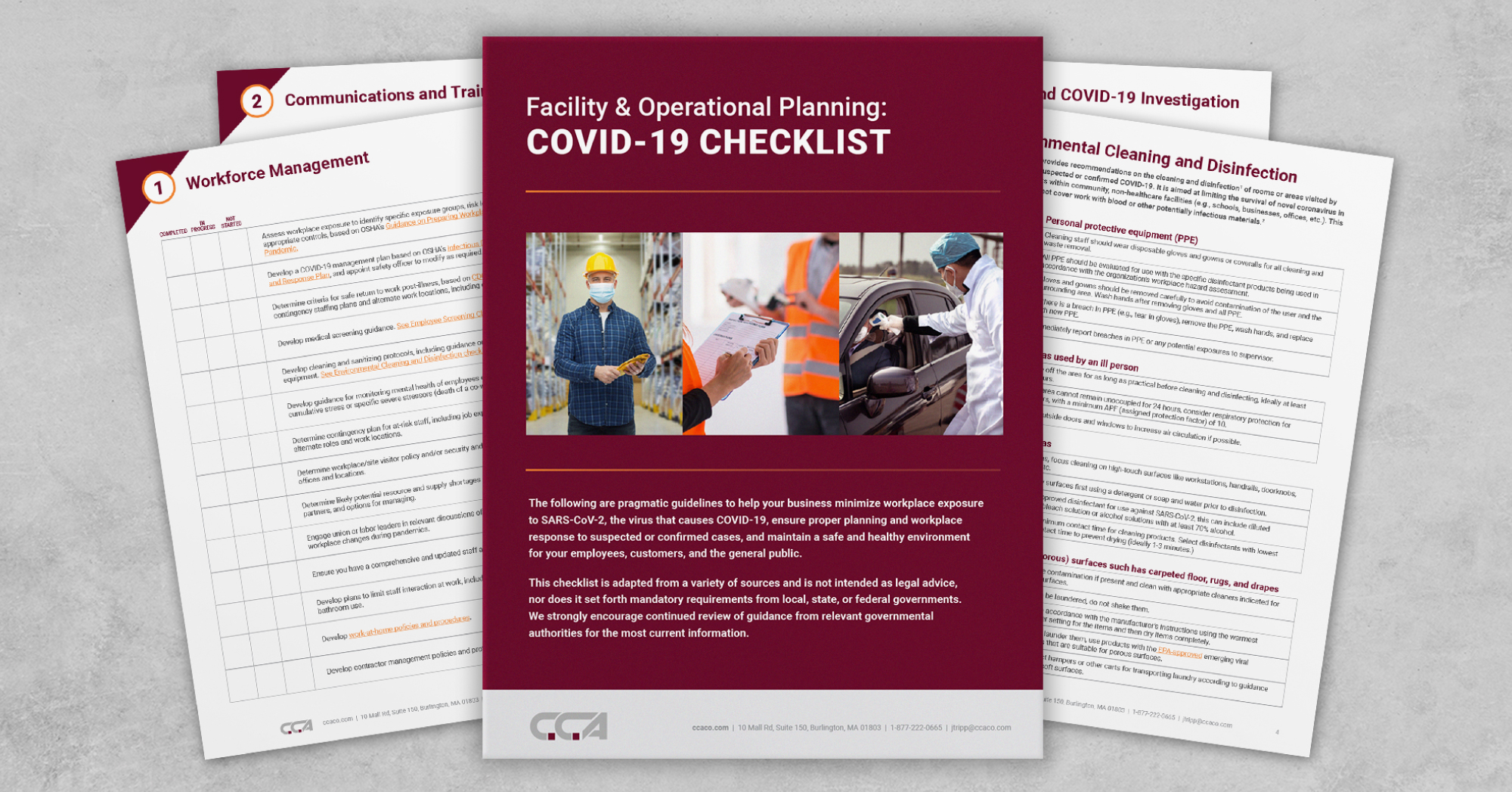 About the Authors:


Dr. Michael P. Mellette, Sc.D., CIH, CSP, CHMM
Senior Scientist, Occupational and Environmental Health, CCA
Dr. Mellette is a Certified Industrial Hygienist, Certified Safety Professional, and Certified Hazardous Materials Manager with more than 15 years of industry and consulting experience in industrial hygiene, exposure assessment, and occupational safety compliance. His experience includes health and safety management roles in military aviation, manufacturing, semiconductor fabrication and assembly, engineering field operations, and consulting work for the healthcare industry. Dr. Mellette has earned a Doctor of Science degree in Industrial Hygiene, a Master of Science degree in Public Health, a Master of Science degree in safety management.
Dr. Marty Barry, Ph.D., PE, CSP., CIH
Vice President, Safety and Environmental, CCA
Dr. Barry is a Professional Engineer, Certified Industrial Hygienist, and Certified Safety Professional with more than 30 years of combined industrial, healthcare, military, commercial, and private sector professional hands-on experience. He possesses an advanced degree in radiation physics and a doctoral degree in biomedical engineering and biotechnology. Marty has provided expert opinions and testimony regarding indoor air quality, mold, contaminants, safety, personal injury, and construction.