Recent Posts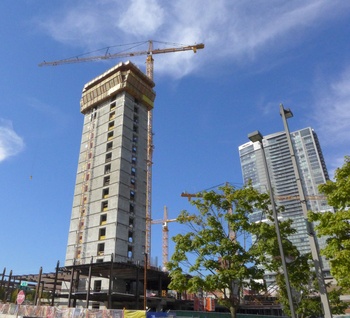 As reported by the University of Wisconsin-Madison, a professor of engineering's solution for streamlining the construction of skyscrapers is being used in a 1.5 million square foot mixed use development in a suburb of Seattle, the Lincoln Square Expansion.
"Traditionally, coupling beams are reinforced with a labyrinth of rebar, adding a great deal of time, cost and complexity to the construction process."
The coupling beams used in the Lincoln Square Expansion, however, are built with fiber reinforced concrete, helping to reinforce the building against possible earthquake damage.
(Image credit: Cary Kopczynski & Co.)
Read More [fa icon="long-arrow-right"]
When considering the use of a Construction Manager at Risk (CMAR), it is critical that an owner understands the limitations of liability that a CMAR has in regards to their design review services. As PretiFlaherty reported on September 3rd, the Massachusetts Supreme Court recently clarified the construction manager's role.
Read More [fa icon="long-arrow-right"]