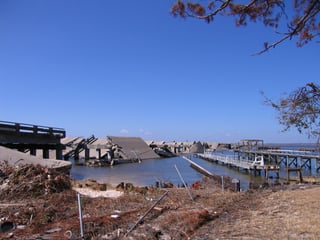 Since Hurricane Katrina first hit New Orleans in 2005, work has been ongoing to protect the city from future flooding.
The Engineering News Record reported that the final step in building the permanent system will be completed in April 2017. As quoted from the article:
The $654-million Permanent Canal Closures and Pumps (PCCP) project now is the last major piece of the $14.6-billion storm risk-reduction system in low-lying New Orleans. The federally funded effort will give the city, which is from 2 ft to 20 ft below sea level, protection from a major storm that has a 1% annual chance of occurring, a so-called 100-year storm.
"The pre-Katrina system was a system in name only," says Dan Bradley, Corps senior project manager for the PCCP project. "We've reduced [risk] by 35% with a true system approach to risk reduction." Ricky Boyett, district Corps spokesman, adds. "Before, the canals were the first line of defense. Now, they are secondary."
Read more about the system by going to the full article here.
Read More [fa icon="long-arrow-right"]