Effective document management is critical to successful litigation.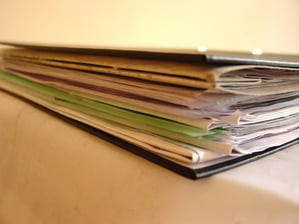 Whether it is a highly complex case with hundreds of thousands of files and millions of pages or a quick trial with just a few hundred documents, attorneys need a manageable way to store, search, review and cull documents to tell the most powerful story.
There are plenty of document management systems on the market – the key is choosing the right system for each case. Some solutions, as powerful and stable as they may be, can be cumbersome, expensive and frankly just overkill, while simpler systems sometimes simply are not up to the job.
The Challenge
The technical issues in document management are daunting. Document formats are usually all over the board. Some submissions are hard copy while others are TIFF (a picture format) or PDF files, and some are a combination of formats.
Documents like spreadsheets, word processing files, databases, CAD files, photograph and video files are often thrown into the mix as well. To complicate it further, some files may have a thousand pages constituting not one document, but hundreds of individual documents combined into a single file.
Arriving at a common format and developing a document library that is logical, organized, consistent, searchable and usable for all stakeholders requires serious consideration of the document management system to be used.
Keep in mind that most document management systems rely on Optical Character Recognition (OCR) to build a database table of words to search on. But OCR is only as good as the document provided – if the file produced is of poor quality, the OCR will fail to capture the content. Photographs and videos do not have textual content. Handwritten documents do not have machine recognizable text. Therefore, these potentially valuable documents are left out of the OCR search tables other than as a reference calling for special review.
State-of-the-art document management
Access Data's "Summation" and LexisNexis' "Concordance" litigation support products are examples of the most robust document management systems available today and widely used by litigators.
Summation, CCA's preferred powerhouse system, provides separate licenses and privileges so that attorney and client work product is protected, hidden and separate from work of investigating experts while still sharing the properties of a common document set with tags, document identities, document types and categories, and notations.
This document management system increases efficiency, reduces redundant cost and provides cross-support for each stakeholder. But while Summation and similar tools are powerful and mature, they can be expensive, require special training and need on-going technical support just as any other enterprise computing system. Some investigations simply do not warrant that kind of effort and expense or do not have the volume or type of documents to justify these sophisticated solutions.
Flat files: simple and elegant document management
A flat file – like a spreadsheet, is a simple and elegant document management solution that uses standard desktop tools – may be appropriate for small and medium cases.
To develop a flat file system, you must first perform a triage of document submissions and develop a high-level index of document types and content. You can then create a table of files by reviewing the documents and populating the flat file with attributes and notations that describe the content. The attributes enable you to sort, group and access the data in a variety of ways.
As this is not an Optical Character Recognition solution, it will not produce a pointer to every record that includes a specific word. It is more of a road map to the documents that are most responsive to a particular query. And because it is a flat file, the documents that precede and succeed a key document can be quickly evaluated, based on attributes, for possible relevance in telling the story.
A flat file solution does not require special software or licensing, but it may require a significant amount of time to build a high level index and conduct a full document review. This method has been effective in projects that involve tens of thousands of files and hundreds of thousands of pages.
Index: a basic approach to document management
Sometimes, a high level index is all you need, particularly for investigations with few files or for investigations where the liability and exposure are very tightly defined. In a case that involves a leaking roof and no other building components, for example, the context of the investigation is highly focused and so is the document management practice.
Conclusion
These are but a few examples. Additional stand-alone tools are readily available and new cloud-based tools are coming on the market. Many multifunction, enterprise printer/scanner/copier systems come with document management tools and OCR engines that may be the right solution for certain situations. The good news is that while there is no one solution for all document management requirements, there are very good solutions available for each and every situation.
Developing the right document management system requires special technical skill, knowledge and effort. At CCA, we have handled many large investigations with hundreds of thousands of files and millions of pages of documentation. We have developed or acquired and used a range of solutions to solve the document management dilemma, and are ready to provide assistance as needed for cases large and small.
Contact us today. We are ready to provide assistance as needed for cases large and small.