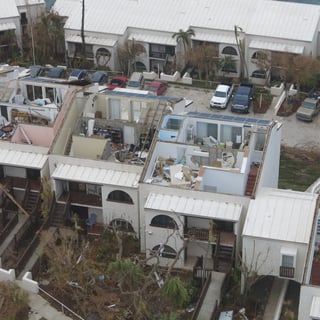 With the 2017 hurricane season coming to an end Harvey, Irma, Jose, and Maria affected large parts of the USA and Caribbean. Examples of roof uplift can be found in numerous structures. If a roof is not properly tied down the entire roof structure can be blown away as in this photograph from St. Thomas.
When hurricanes or high winds strike buildings the roofs can be sucked upward in the same manner as an airplane wing. In extreme cases the entire roof structure can get sucked off the building. Newer, hurricane-resistant structures incorporate hurricane ties - metal straps which attach the roof securely to the main part of the house below. Parts of the house are also tied together all of the way down to the foundation providing a path for the roof uplift forces all the way to the foundation. Without these ties, strong winds will make quick work of a roof.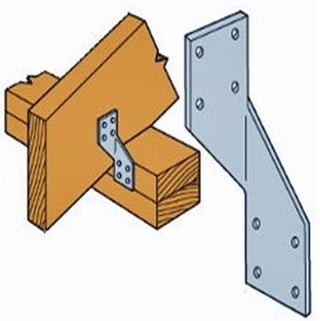 Building codes in hurricane areas, and areas where high winds can be expected, require the installation of metal ties, or straps as follows: "Roof assemblies shall have rafter and truss ties to the wall below. Resultant uplift loads shall be transferred to the foundation using a continuous load path." This means that the roof rafters are tied to the top of the wall, at the wall plate, with metal ties, and the bottom of the wall is tied to the foundation of the building. This continuous load path concept is commonly achieved with the use of plywood wall sheathing on the outside of the building. The plywood is nailed to the top plate, to each stud, and to the bottom sill plate. The bottom sill plate is bolted to the foundation thus achieving a "continuous load path."
All new buildings are required to have hurricane ties installed. While not required on older structures, owners of existing buildings would be wise to invest in the installation of hurricane ties and straps. Costs are minimal and these retrofitted items can make a difference during the next hurricane or wind event.