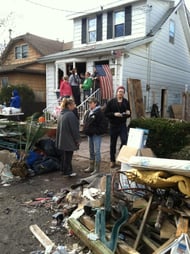 Dealing with flood damage inside of your home or business can be a nightmare. With water soaking your valuables and all of your belongings, it's often difficult to know or even process where to begin. Quite likely many questions are running through your head pertaining to whether or not your insurance will cover the damage.
The following article, Tacking flood damage to dwellings, is a quick read and breaks down the steps you should take, should your home be victim to flood damage.
The first step in instances of flood damage is to contact your insurance agency to file a homeowner or renter's insurance claim*. Next, you should also register with government agencies such as the Federal Emergency Management Agency (FEMA) or the U.S. Small Business Administration (SBA), if you're a business. Often these agencies are able to provide immediate assistance for living costs, help provide aid through local organizations, or even offer low interest loans for businesses.
Outside of contacting your insurance provider and registering with government agencies, the next best thing to do, as suggested through this article, is to begin sorting through your belongings to assess damage. During this process be sure to take note of any items you're removing from your property and document the damage through pictures or videos.
Continue reading the full article to gain insight into what else you can do to begin the recovery processes following flood damage.
For over 25 years, CCA has been responding to major hurricanes and storms. If you believe your property has been damaged as a result of flooding or water intrusion, CCA can help with the investigation and recovery process.
*The above is a general overview of typical insurance policies related to wind versus flood damage. We advise people more interested in this topic, or concerned about their coverages, to contact an insurance professional.
Most typical insurance policies cover storm damages from wind driven rain and the resulting water intrusion, but most do not cover flood water damage. Flood insurance is often a different policy and understanding your coverages is important for recovery efforts. The other advantage of contacting your insurance agency is that they may assist you with the important task of taking immediate steps to remove the water and water damaged building components to prevent mold and further damages.