Part two of a series. If you missed part one of our Asbestos post series, you can access that here.
Asbestos Testing and Clean-Up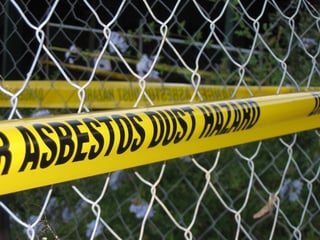 Once asbestos is discovered or suspected the following steps should be safely taken by qualified professionals; secure the property to be sure no individuals or workers go into the building without proper training and personal protective equipment, survey the property, inspect for the presence of asbestos contamination, and locate the source of the asbestos contamination.
CCA has led asbestos remediation, leading teams of professionals to inspect, evaluate, and de-contaminate buildings. Working with local environmental inspection and testing consultants, CCA and the consultants would safely enter the building, take surface and airborne samples, and determine if the structure is, in fact, contaminated with airborne asbestos particles.
The discovery and confirmation of asbestos contamination would lead to the commencement of a clean-up, disposal, and certification effort by the team and a certified asbestos abatement contractor. Asbestos abatement efforts of this nature are regulated by many different agencies including local authorities, OSHA, and U.S. Environmental Protection Agency (EPA). In the case of the author's location in Orange County, California, the South Coast Air Quality Management District, a state air quality oversight agency manages and regulates the clean-up of asbestos-contaminated properties.
To accomplish the abatement work CCA has utilized local environmental consultants for full-time on-site inspection and clearance work. The actual clean-up and disposal work would be performed by a certified abatement contractor, selected through a competitive bidding process managed by CCA.
The abatement contractor's scope of work, for a building in California, would typically include:
Submittal of a copy of the Procedure 5 asbestos abatement work plan along with fees to SCAQMD, for review and approval.
Submittal of an asbestos abatement notification to Cal/OSHA.
Mobilize crew, materials, and equipment to the job site.
Conduct pre-work safety meeting and job site orientation.
Install 3-stage decontamination unit and negative air filtration.
Pre-clean and install critical barriers.
Perform second wipe down and HEPA-vacuuming of building and contents.
Bag all pre-cleaned items and stage.
Package all porous materials for hazardous waste disposal.
Final cleaning of building for asbestos clearance testing.
Upon achieving satisfactory asbestos clearance, move contents back inside.
Demobilize crew and equipment.
Prepare waste manifest.
Transport and dispose of asbestos waste at an approved landfill.
In order to maintain control of all personal property, all materials and contents which was disposed of, in accordance with regulations, would be inventoried by a third-party firm retained.
For more information on how CCA can get you the right answers to your problems, contact us today.