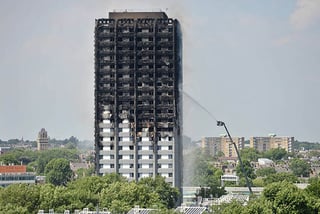 A high school in Alaska, a National Football League stadium, a Baltimore high-rise hotel and a Dallas airport terminal are among thousands of structures world-wide covered in combustible-core panels similar to those that burned in June's deadly London fire.
According to a recent article in the Wall Street Journal and picked up by Construction News, safety improvements to building interiors over the past 40 years have helped cut the number of structure fires and related deaths in the U.S. by roughly half, a remarkable victory over one of civilization's oldest threats.
Yet fire-safety experts say the more recent use of combustible-core panels to cover multistory buildings has created a hidden danger to legions of workers, students, hospital patients and hotel guests inside the structures. A loosening of the model U.S. building code could make matters worse.