There is no shortage of news stories about balcony failures. From the recent collapse in Berkeley, California to The New York Times report on construction defects following a Brooklyn housing boom, balcony and deck construction defects and the possible devastating consequences and law suits make for attention grabbing headlines - and should be of concern to any home or building owner.
Common Balcony and Deck Issues
Generally speaking, a balcony is self-supporting and a deck is supported by a foundation; however, for simplicity, I will be referring to both as balconies. When balconies are constructed, attention and care must be paid to the installation of components by following current codes, recommended details and manufacturers' installation instructions. Particularly in wood construction, sequencing of the different trades for installation of components is important, especially at vulnerable areas where multiple openings and penetrations of the building are susceptible to water infiltration due to exposure to the elements.
At times contractors, or homeowners, take shortcuts in their building processes in order to follow tight schedules and maintain costs. As a result, the proper coordination of component installations by the various trades can be overlooked, resulting in deficiencies and resulting damages that are problematic for all involved.
As the image below demonstrates, uncovered damage due to construction deficiencies and water intrusion can present in a variety of ways. Wood balcony construction is typically comprised of windows and doors, balcony flooring, a waterproof covering if over living spaces, walls, structural members, posts and railings, lighting fixtures, and water-resistant flashings. Most of these involve penetrations of the exterior of the building; without adequate and properly executed sequencing and installations of the various components, deterioration, damage, rot, and possibly organic growth due to water intrusion are inevitable.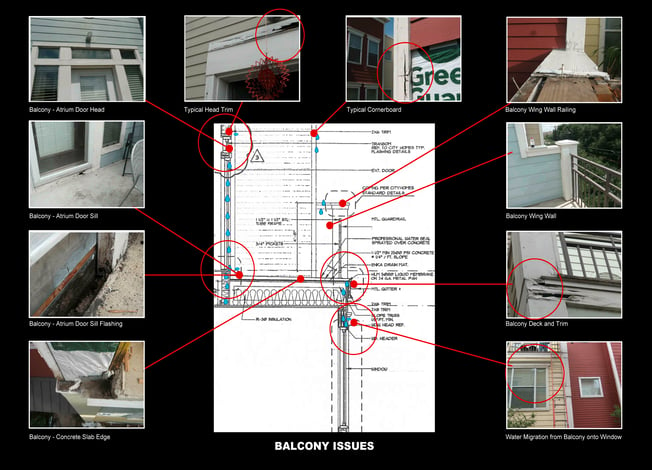 CCA originally created this image for use related to the Community Associations Institute. Their monthly magazine, Condo Media, provides information and resources for condominium, cooperative and homeowner associations. The illustration focuses on critical areas at one condominimum complex where defects caused water intrusion and damages. The defects found included improper maintenance; improper flashing of the doors, windows, and rail caps; inadequate sloping of the balcony; lack of properly installed caulking; and oddly, the installation of caulking where it did not belong. In this instance, the intersection of the exterior wall and the balcony surface was caulked, which prevented incidental water behind the siding from draining out at the bottom. Instead, the water was trapped in the wall and caused interior damages, including wood deterioration.
The types of issues illustrated above are quite typical in many building types for allowing water to make its way into the building's structure and interiors, possibly leading to extensive damage and even structural failures.
What causes water intrusion that leads to balcony issues?
There can be many reasons for water infiltration issues at balconies. A few are described below and illustrated above, as they typify common problems. With attention to a number of balcony installation details, the following are easy steps to avoid damage.
Slopes: Impervious floor finishes of balconies, whether constructed of wood or concrete, must be installed in order to slope away from the building. If not, water pools on the balcony, causing trim, siding, and wood posts and railings to absorb water and eventually compromise their integrity.
Flashings: These are critical, and required by building codes, at exterior areas such as window and door openings, light fixture and piping penetrations, the intersection of some building components and joints such as floors to walls. Properly installed flashing provides an avenue for the water that enters the building behind the finishes to be drained out, so that sheathing and structural framing members are not compromised. Resources illustrating the proper installation of different flashings are readily available from manufacturers and related manuals.
Wood trim: Wood trim is often used at multiple locations as indicated above, especially around windows and doors as casings and for finish detailing. All painted wood trim should be field primed on all six sides and factory pre-primed trim should be primed at all cut edges and ends prior to installation. Priming even unseen surfaces, particularly at trim ends, helps to prevent water absorption and prolongs its use. Deteriorated trim typically leads to open joints that allow water intrusion, which will adversely affect other building elements. Rot resistent woods and composite trims (PVC) also have to be installed according to manufacturing recommendations as these products have their limitations.
Sealants: Sealants are also important components in the prevention of water infiltration and should be used in concert with windows and doors, flashings, trim and other building components. Sealant applications need to be periodically inspected and maintained to prevent water infiltration at joints. Most sealants last five to twenty years; however, isolated failures that require maintenance can occur earlier.
What are some of the signs of balcony damage?
Staining of interior and exterior

balcony

finishes

Leaking at windows, doors, or door thresholds

Difficulty opening and closing windows or doors

due to swelling of wood

Peeling, blistering, or splitting paint

at critical areas

Exterior wood trim deteriorating, splitting, soft, or with biological growth

Weakened joints,

especially critical at balcony railings and structural posts
You found signs of balcony damage. Now what?
If you have concerns about your decks or balconies, or see signs of damage on balconies and surrounding areas, seek the advice of an engineering and/or architectural firm. A typical investigation will include:
Visual observation:

The firm will first conduct a visual investigation, inspecting problem areas reported by Owners (as well as the entire balcony and surrounds) and will determine if concerns of structural damage are valid and visible. The inspector may employ a moisture meter to determine the level of wood saturation with moisture and/or an infrared camera to assist with identifying leaks.
More complex evaluation: Following the visual investigation, the firm will return to the site to delve more deeply into areas suspected of damage. They will selectively open up areas to examine components that are not visible, and will assess the extent of the resulting damage, if any.
Remediation plan: Based on findings, recommendations are made for a remediation plan. After Owner approval, drawings, specifications, and/or estimates are developed for solving water intrusion or other relevant construction issues and correcting damages. Typically assistance with bidding by qualified contractors and construction administration services of the construction or repair project should be included.
If you have concerns about your balcony or surrounding areas, CCA can help. Our team of engineers and architects has a wide range of experience with balcony construction defect investigation and developing relevant remediation plans and would welcome the chance to speak with you or your association to explain more about how we can help. Contact us today.