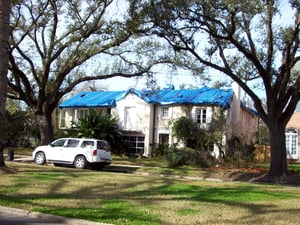 Your insurance policy may or may not cover all your damages from recent hurricanes. In general, most policies will cover damages caused by high winds, such as damaged roofing shingles, broken windows, or damage from toppled trees. The tricky part comes when your home or business is damaged by water intrusion.
Most insurance policies distinguish between "wind driven rain" and "flood" waters. Wind driven rain, which may enter your house or business through damaged roofing, or broken windows, and any resulting damages, are typically covered by standard insurance policies. Water damages, either inside or out, caused by floodwaters, are typically excluded from coverage, unless your policy specifically includes floods. Conversely, most flood insurance policies cover only damages caused by floodwaters, not wind driven rain.
Most home and business insurance policies cover one or the other, but not both. Insurance companies and the policies they offer consider flood damage and wind driven rain damages as two different kinds of damage. While both types of damage can occur from a hurricane, your property may not be covered for both kinds of damage unless your policy specifically says so.
What is the difference between flood water and wind driven water?
Floods:
FEMA (Federal Emergency Management Agency) defines a flood as "A general and temporary condition of partial or complete inundation of 2 or more acres of normally dry land area or of 2 or more properties due to overflow of inland or tidal waters; or unusual and rapid accumulation or runoff of surface waters from any source; or mudflow; or collapse or subsidence of land along the shore of a lake or similar body of water as a result of erosion or undermining caused by waves or currents of water exceeding anticipated cyclical levels that result in a flood as defined above."
Wind driven water examples:
Heavy rainstorms or blowing rain, or debris, damages your roof and causes water to leak into your property.
A tree is blown over on your roof allowing rainwater to flood the inside of your property.
Wind driven debris such a tree branch, metal roofing panels, signs, or other items strike the side of your building, or windows, allowing ensuing rainwater to find its way inside your property.
Note: Damages caused by water intrusion into your house or building due to pre-existing conditions, or conditions that can be attributed to a lack of maintenance, such as old roof damage, holes in exterior walls, or leaky windows are often not covered by most insurance policies.
CCA has worked on hundreds of hurricane damage claims, representing home and business owners, involving ten different major hurricanes over the last twenty years and can help you identify whether or not your business or home has experienced water damage as a result of a hurricane.
CCA has put boots on the ground to assess hurricane damage and perform on-site inspections even before roads have been cleared and utilities restored. CCA has also analyzed losses years after a hurricane has hit, sifting through hundreds of thousands of pages of documents to help parties resolve complex litigation involving causes and costs of damages. We have the experience of being at ground zero after major hurricanes as well as the experience of determining losses through documents and weather histories after the fact. CCA personnel, from its top management to its engineers, architects, and estimators, have been there after a catastrophe and understand the needs of insurers, insureds, property managers, contractors, and regulators.
The above is a general overview of typical insurance policies related to wind versus flood damage. We advise people more interested in this topic, or concerned about their coverages, to contact an insurance professional.