No matter where you live, hearing the news that a tornado watch or warning is occurring near you can be nerve-wracking. But it can be even more nerve-wracking if you are unsure of what to do or where to go for safety in your home or business.
Tornadoes do not often occur near the CCA headquarters in Massachusetts but it has happened before. According to data collected by the Tornado History Project, 162 tornadoes have been recorded in Massachusetts between 1950 and 2014. That is an average of less than three tornadoes per year. Of those three, the National Weather Service predicts just one strong to violent storm each year – which is small compared to the 29 strong to violent storms predicted annually in Texas.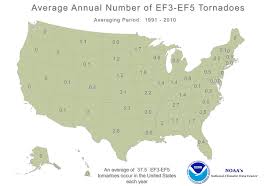 Because of the rarity of tornadoes, many of our clients in MA are unprepared. In fact, after a violent tornado touched down in Revere last year, we had a number of clients calling us for assistance in finding the safest place in their buildings so they are prepared for next time.
(image: https://www.ncdc.noaa.gov/climate-information/extreme-events/us-tornado-climatology/trends)
So how do you determine what is the safest room in your building?
The Federal Emergency Management Agency has created a number of documents that a professional Structural Engineer or Architect can use in determining the best available refuge areas of an existing structure.
According to FEMA, "the term best available refuge areas refers to areas in an existing building that have been deemed by a qualified architect or engineer to likely offer the greatest safety for building occupants during a tornado. It is important to note that, because these areas were not specifically designed as tornado safe rooms, occupants may be injured or killed during a tornado. However, people in the best available refuge areas are less likely to be injured or killed than people in other areas of a building."
While most buildings will sustain catastrophic damage when hit by an F4 or F5 Violent Tornado, the reality is that most tornadoes do not produce the winds seen in those types of storms. By using the best available refuge area in an existing building, you greatly reduce the risk of injury in a typical storm.
Steps to selecting the best available refuge areas
FEMA recommends three main steps in selecting the best available refuge areas:
Determine how much refuge area space is required to house building occupants
Review construction drawings and inspecting the building to identify the strongest portion(s) of the building
Assess the site to identify potential tree, pole, and tower fall-down and windborne missiles
A professional structural engineer or architect like CCA can work with you to help determine the safest area of your building. FEMA's Best Available Refuge Area Checklist is designed for registered professionals to use in order to assess the ability of the refuge area to protect occupants from large storms. Typically, these rooms will be interior rooms (with no exterior walls/windows), a location below ground or at ground level, with a minimal amount of glass area. The room's structure ideally has reinforced concrete or reinforced masonry walls, with strong connections between walls and roof and walls and foundation.
While you may not live in an area that is often hit by violent storms, it is important to be prepared. Contact CCA and one of our professionals will assist you in finding you Best Available Refuge Area in your home or building.