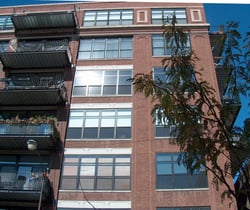 As recent news stories reveal, wood rotting and structural failures of balconies and decks can have costly consequences. The structural design and construction of decks and balconies, including their guardrails (or handrails) are critical for the safe performance of these structures and to avoid structural failure.
Decks vs. Balconies
A major cause of balcony failure is connected to the "live loads" - or how much weight is being held by the balcony at one time. Loading criteria for balconies and decks changed between the 2006 International Building Code (IBC) and the 2009 IBC. The 2006 IBC prescribed different live loads for balconies than for decks.
Balconies are defined by the 2006 IBC as an exterior floor projecting from and supported by a structure without additional independent supports. In other words, a floor projection that cantilevers out from an exterior wall. A deck is defined as an exterior floor supported on at least two opposing sides by an adjacent structure and/or posts, piers or other independent supports. The 2009 IBC does not differentiate live loads between decks and balconies and does not provide definitions for either.
Most single family homes and multi-family residential structures have decks, not balconies, as defined by the 2006 IBC.
What are the critical components for long term performance of decks and balconies?
Support columns:

Support columns

need to be designed for the maximum load expected and the unsupported height of the column.

Notching of columns

as is sometimes done at beam or girder connections, need to be properly designed, detailed, and constructed to provide a safe support for decks.




Ledger connections: Ledgers, the members attached to the exterior walls which the deck's joists are connected to, are critical components to a deck's performance. Ledgers are typically lag bolted to the exterior walls. The allowable loads for lag bolts are quite low and, for typical deck sizes, require multiple lag bolts for each joist. Deck joists are typically supported from the ledger boards with metal joist hangers which have high allowable loads and are rarely a problem as long as they are installed per manufacturer's instructions. Ledgers also create other problems for the support of decks. Ledgers create openings within the exterior walls where water can penetrate to the interior of the walls causing deterioration of the wall components. Proper flashing and water management details are critical for the long term performance of decks (see Addrienne Paskind's Common Balcony Construction Defects blog for more on this subject).


Guardrails: Guardrails are required to safely support a 200 hundred pound load, acting in any direction, at any point along the top of the guardrail or a 50 pound per foot load, acting in any direction, along the top of the guardrail.

These loads must be safely transferred through the supports to the structure. The connection of the handrail posts are a critical component of guardrails.

Guardrails are required by code to be 42 inches above the deck surface. This height combined with the required 200 pound load creates a large bending force at the base of handrail posts. Handrail posts bolted to the joists typically do not have the design strength to resist these loads without additional blocking or straps to secure the posts.
Decks and balconies are an attractive and well used feature in residential structures. However, they can be deadly if their design, construction, and maintenance are not carefully considered. By their very nature, they are exposed to the damaging effects of weather and typically interrupt the structure's weather resistant cladding at their connections to the structure. Homeowners and condominiums boards should be aware of these potential dangers and institute inspection and maintenance programs for decks and balconies.
If you have questions concerning the structural integrity of your deck or handrails, it's best to call a structural engineer to provide a professional opinion. CCA has performed these services for many clients and will be happy to discuss your situation. Contact us today.