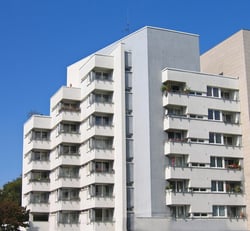 As I noted in my last blog post, and as recent news stories reveal, wood rotting and structural failures of balconies and decks can have costly consequences. The structural design and construction of decks and balconies, including their guardrails (or handrails) are critical for the safe performance of these structures and to avoid structural failure.
Signs of common balcony and deck structural failures
Of course, if you have questions concerning the structural integrity of your balcony and deck, it's best to call a structural engineer to inspect the property and provide a professional opinion. In Boston, property owners are required to have certain facades inspected and certified within every five years. While this is not required for all properties, it is a good idea to schedule an inspection for your property's balconies and/or decks within this time frame.
In addition to scheduling regular inspections, any of the following signs of structural failure should be inspected as soon as they are noticed:
Loose railings or guardrails: Guardrails are required to safely support the weights that I noted in my last blog post. Railings or guardrails that are not solid and can be shaken or loose should be inspected and repaired.
Excessive deflection (sag) of any deck or balcony element.
Sections of decking becoming noticeably out of level: Any portion of the deck or balcony that was once level and is no longer level should be inspected.
Visible rot: Water infiltration can cause structural issues to balconies and decks.

See Adrienne Paskind's Common Balcony Construction Defects blog post for more on this subject.
Examples of recent investigations
CCA works with many clients in inspecting and investigation structural performance issues in decks and balconies. For example:
We recently were involved with a litigation claim that concerned a railing that collapsed. We inspected the balcony and investigated the cause of the performance failure, finding that the railing was connected by nails and was subjected to withdrawal loads, rather than being properly fastened using screws or lag bolts.
A property management firm hired CCA to investigate all decks in one development. While most of the inspected decks were in good condition, we did find that some handrails were insufficiently fastened and should be strengthened. There was also an insufficient number of bolts connecting decks to the structures. Unfortunately, some builders are unaware of how many bolts are needed , and without proper instruction provided by a structural engineer, can unknowingly build a deck or balcony that is not structurally sound.
If you have questions concerning the structural integrity of your deck or handrails, it's best to call a structural engineer to provide a professional opinion. CCA has performed these services for many clients and will be happy to discuss your situation. Contact us today.